I love this Tweet from Cameron Winklevoss.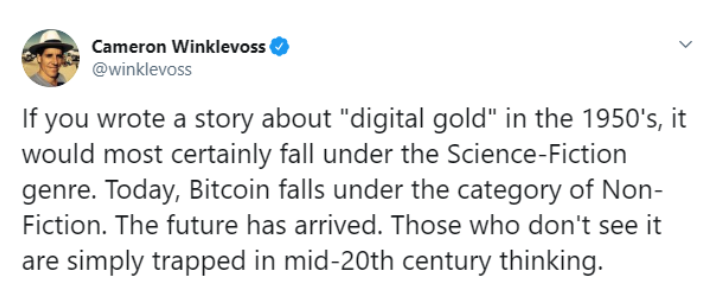 This is profound. Today we are facing a new way of dealing with money.
The old way of using only government-backed fiat currencies (like the US Dollar, the Euro, Japanese Yen, etc.) is based on hope that the government will still back it at some point in the future when you need it.
That's not working out well for those in Venezuela with the Bolivar. It also is not working as well with the Peso in Argentina. How about Cyprus?
Cryptocurrencies like Bitcoin, Bitcoin Cash, Dash, and other forms of "digital gold" provide hope for now and into the future. They are based on mathematics, which is much more reliable, and less volatile than capricious fiscal and monetary decisions by central banks and politicians.
Get to know Cryptocurrencies. Bitcoin is the leading coin and has a lot of backing world-wide. It is worth investing time and energy to learn about it.
Thank you for stopping by.
Terry
Terry L. Brock, MBA, CSP, CPAE
Member, Professional Speaker Hall of Fame
Certified Speaking Professional
Council of Peers Award of Excellence
2018 Recipient of the National Speakers Association's Highest Award, The Cavett
2019 Inductee as a Speaking Legend with Veteran Speakers Network
Master of Ceremonies
Professional Video Coach
See some wonderful (!) videos on my YouTube Channel!
https://www.youtube.com/user/TerryLBrock/videos
My TEDxBocaRaton presentation.
Former Editor-in-Chief for AT&T's Networking Exchange Blog
Former Chief Enterprise Blogger for Skype
Former Chief Retail Advisor – Ace Hardware Global Solutions Academy
www.TerryBrock.com, [email protected]
+1-407-363-0505
@TerryBrock – Twitter
@terrybrock – Steemit
www.facebook.com/SpeakerTerryBrock
http://www.linkedin.com/in/marketerterrybrock