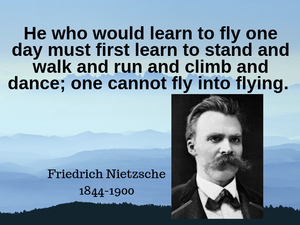 To achieve anything that is worthwhile requires diligent, persistent work.
It takes discipline to stay with something you want to achieve when you are having setbacks.
I love this quote from Nietzsche. We have to build on top of expertise along the way. Develop your foundational skills. Then build on top of them,
Yes, wanting to "fly" can be a metaphor for achieving that big, stretch goal in your own life.
Map out your strategy.
Get the foundational skills and then build on top of them.
Plan it through to the end.
Plan on obstacles and set-backs. (Hey, it works that way here on Planet Earth).
Figure out how you'll overcome the likely obstacles & set-backs.
Build in resilience to overcome obstacles and set-backs that you didn't see coming and come from out of nowhere.
Here's to you achieving your goals and "flying" as you see it.
Please share this with your community. Please upvote here on Steemit.
Thank you very much for visiting and I wish you the best.
Terry
Terry L. Brock, MBA, CSP, CPAE
Member, Professional Speaker Hall of Fame
Certified Speaking Professional
Council of Peers Award of Excellence
2018 Recipient of the National Speakers Association's Highest Award, The Cavett
Master of Ceremonies
Professional Video Coach
Chief Retail Advisor – Ace Hardware Global Solutions Academy
Training Ace Retail People around the world, online training
See some wonderful (!) videos on my YouTube Channel!
https://www.youtube.com/user/TerryLBrock/videos
My TEDxBocaRaton presentation.

Former Editor-in-Chief for AT&T's Networking Exchange Blog
Former Chief Enterprise Blogger for Skype
www.TerryBrock.com, Terry@TerryBrock.com
+1-407-363-0505
@TerryBrock – Twitter
@terrybrock – Steemit
www.facebook.com/SpeakerTerryBrock
http://www.linkedin.com/in/marketerterrybrock