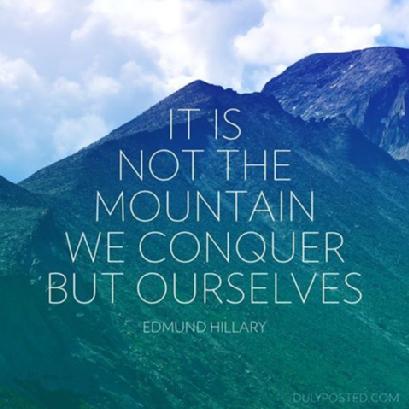 Often we look at the problems we have an think we can never overcome those problems.
That is understandable and it is natural to feel we don't have the resources, looks, drive, education, age, etc, ect. to continue.
That is not necessarily the case!
Too often we focus on the "mountain" that we are facing. Instead, as Edmund Hillary, the first to successfully climb Mt. Everest, said so eloquently, we should be conquering ourselves.
Conquer your false beliefs.
Conquer your lack of skills in an area by enhancing those skills through reading, study, getting mentors, and doing whatever you can.
Instead of focusing on the problem at hand, focus on how you can become the person who is able to conquer the "mountain" that is facing you.
Be willing to pay the time, money, and energy it takes to conquer that mountain. No one can do it for you.
Stop making those damned excuses.
Make yourself stronger to conquer the obstacles you face.
Too many people focus on coming up with excuses as to why they can't conquer the obstacles. They spend way more time, money, and energy on explaining why they can't do it rather than asking questions as to how they would be able to accomplish that goal.
Make it your goal today to improve in an important area in your life to achieve a worthwhile goal. Make it your goal to get a bit farther up that "mountain" you're facing now.
Then you will know you can do so much more when you get to the summit of the mountain having conquered it.
Thank you for stopping by. Please share this with your community so they can benefit from it.
I wish you the best in conquering your "mountains" that face you.
Terry
Terry L. Brock, MBA, CSP, CPAE
Member, Professional Speaker Hall of Fame
Certified Speaking Professional
Council of Peers Award of Excellence
2018 Recipient of the National Speakers Association's Highest Award, The Cavett
Master of Ceremonies
Professional Video Coach
Chief Retail Advisor – Ace Hardware Global Solutions Academy
Training Ace Retail People around the world, online training
See some wonderful (!) videos on my YouTube Channel!
https://www.youtube.com/user/TerryLBrock/videos
My TEDxBocaRaton presentation.

Former Editor-in-Chief for AT&T's Networking Exchange Blog
Former Chief Enterprise Blogger for Skype
www.TerryBrock.com, Terry@TerryBrock.com
+1-407-363-0505
@TerryBrock – Twitter
@terrybrock – Steemit
www.facebook.com/SpeakerTerryBrock
http://www.linkedin.com/in/marketerterrybrock