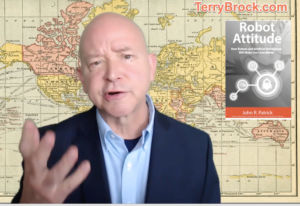 Robots have become something that many people dread and fear.
Yes, they have some potential to do harm, but there are a lot of great opportunities also.
In this video I speak with author John Patrick, PhD, about his new book, Robot Attitude. In this interview we talk about robots but also what your future has in store with drones, 3D printing, facial recognition and more.
This is one you'll definitely want to check out and study.
Please share this with your community so they can benefit from it. Thank you very much for stopping by to visit.
Check out this wealth of a resource about the future, new technologies and more. Dr. John Patrick shares powerful information in a style that makes sense.
I look forward to your comments,
Terry
Terry L. Brock, MBA, CSP, CPAE
Member, Professional Speaker Hall of Fame
Certified Speaking Professional
Council of Peers Award of Excellence
2018 Recipient of the National Speakers Association's Highest Award, The Cavett
Master of Ceremonies
Professional Video Coach
See some wonderful (!) videos on my YouTube Channel!
https://www.youtube.com/user/TerryLBrock/videos
My TEDxBocaRaton presentation.
Former Editor-in-Chief for AT&T's Networking Exchange Blog
Former Chief Enterprise Blogger for Skype
Former Chief Retail Advisor – Ace Hardware Global Solutions Academy
www.TerryBrock.com, [email protected]
+1-407-363-0505
@TerryBrock – Twitter
@terrybrock – Steemit
www.facebook.com/SpeakerTerryBrock
http://www.linkedin.com/in/marketerterrybrock